Hand Tracking
This page is about webcam based hand tracking feature, supported in VMagicMirror v1.8.0 and later.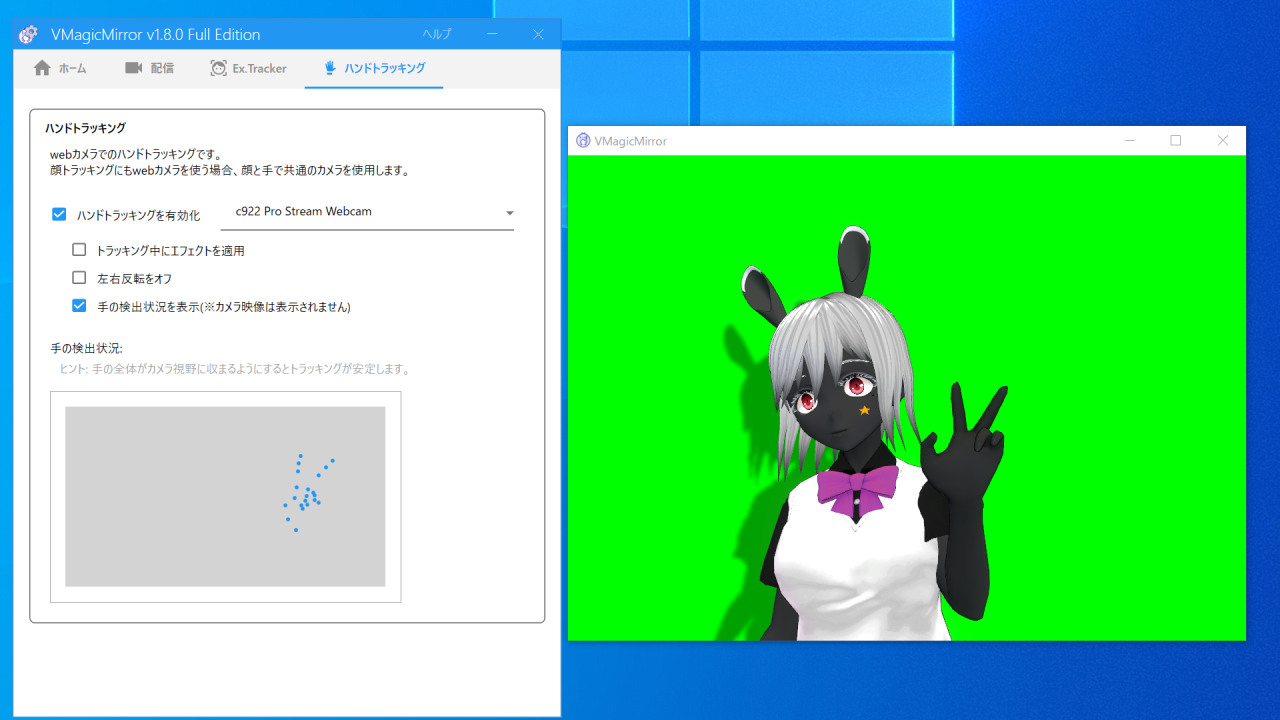 Feature / Expected Usage
By hand tracking feature, you can
Track your hand by webcam, during your hands are next to the face.
Finger tracking is also available.
Expected usage is like following.
Wave your hands by tracking at the start and end of a streaming.
Do Paper-lock-scissors
Limitations
In Standard Edition distributed by free, some visual effects are applied during hand tracking is enabled.
Please get Full Edition to use it without this effect. Please see detail in Download page.
(Left: Standard Edition / Right: Full Edition)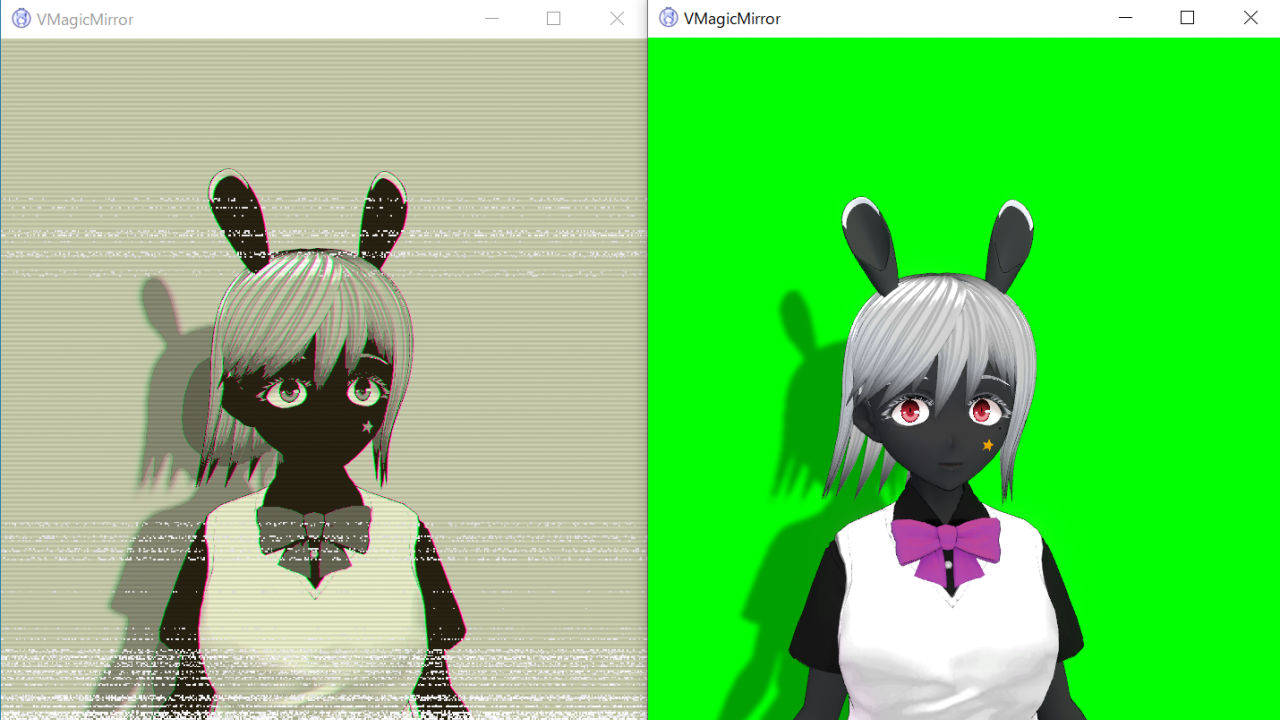 This visual effect is the only difference. There are no difference in tracking feature.
Also please check following restrictions.
It does not track quick movement.
Precision will decrease when the hand does not face to webcam.
Cross hands is not recognized.
Hand detection area is small, in compare to tracking specialized device (like Leap Motion).
Usage
In Hand Tracking tab, check Enable Hand Tracking and select webcam.
NOTE
If you use webcam to face tracking, then single webcam is used for both face and hand tracking. This means that you cannot select different cameras.
Also you can use External Tracker with this hand tracking feature.
You can turn on Disable Horizontal Flip to disable flip, so that avatar will raise right hand when you raise the right hand.
During Show Detection Status is on, the area below shows detection results. Especially for the first time to try hand tracking, I recommend to turn on this check to see tracking stability and the area size of tracking.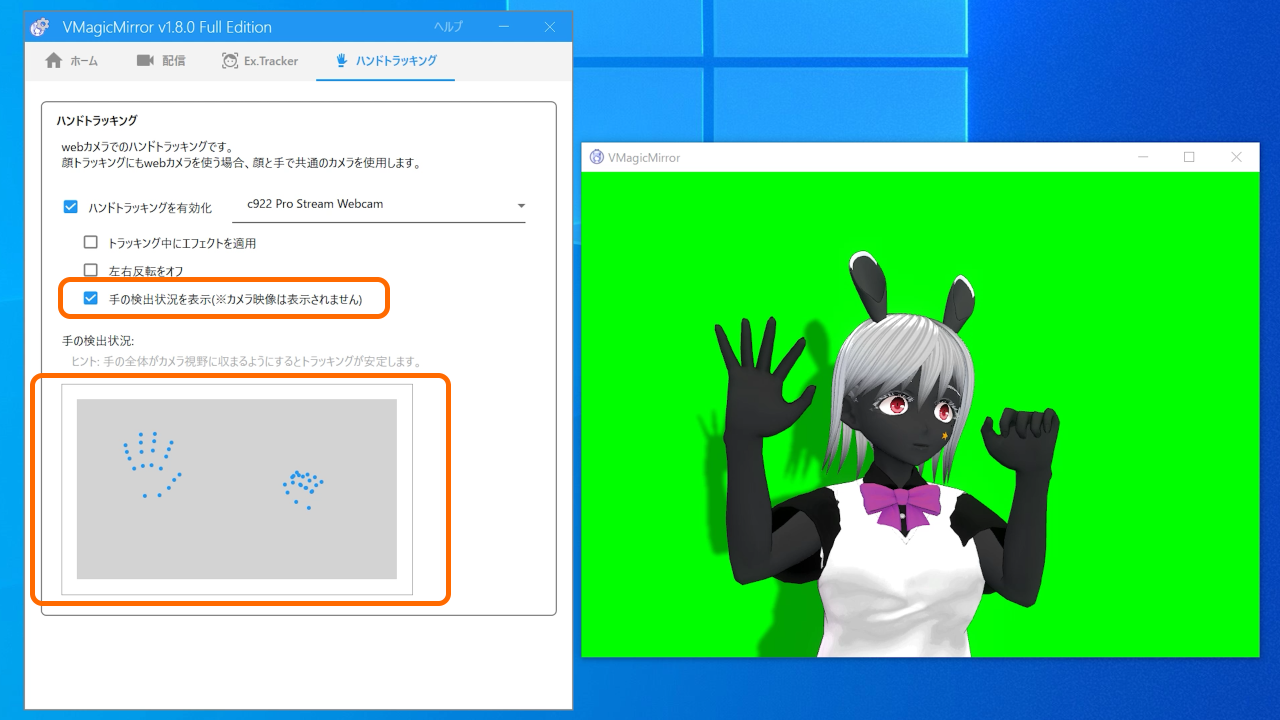 Tips to stabilize the tracking
Light up the room so your face and hands are captured clearly from the web camera.
Large PC monitor becomes a light by itself. Detection will be stable when displayed content is basically white.
Please put away the objects behind you whose colors are similar to your skin color.
For the clothing, please avoid to expose your shoulders and elbows.
Be aware of the distance between your hands and camera. Too far is NG of course, and detection also fails when the hand is too close to camera.
Another good way to check how thing and lights has effect is to quit VMagicMirror and run Windows built-in Camera app. When you try this way, please be careful that VMagicMirror can not use webcam during Camera app runs, and vice versa.